As responsible firearm owners,

SAFETY

is always our primary concern.
It is each individual's DUTY to know and understand the rules of firearm safety and ALWAYS implement / practice said rules.  It is also our responsibility to become familiar, proficient and confident with our guns.
Universal Firearm Safety Rules:
Treat ALL firearms as if LOADED.  It is the user's responsibility to know and confirm the condition of the firearm.  Always check / double check the  firearm.
Keep the gun POINTED in a safe direction.  Never allow the firearm's muzzle to point at or cover anything you don't intend to shoot and destroy.
Keep your FINGER(S) OFF of the TRIGGER and OUT OF THE TRIGGER GUARD until pointed at a target and ready to shoot.
Be CERTAIN of your target, the line of sight and what is behind it.  If you're uncertain, DON'T shoot.
Always store / keep your firearm in a secure place and keep all firearms away from children and unauthorized users.
Always wear ear protection and glasses that are ANSI-rated for safety.
~Training / Education Suggestions
Get quality instruction from a Professional Firearms Instructor BEFORE shooting for the first time. Unfortunately, there are some companies / individuals offering instruction that may not be qualified to do so or properly insured. Do your research.
If you intend on owning a firearm for self protection, educate yourself by taking a State Concealed Carry Weapons program.  AND make an ongoing commitment to train regularly with your firearm so you are safe, accurate, confident and competent.
For more information on firearm safety, please reference the NRA's Gun Safety Rules:
http://www.nrahq.org/education/guide.asp

Teaching your children about firearm safety is always a good idea.  Does your child know what to do if he or she finds a gun? 

Educate them, Eddie Eagle style: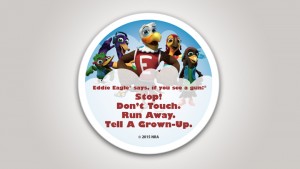 STOP, DON'T TOUCH, RUN AWAY, TELL A GROWNUP!
Click HERE for more info on the Eddie Eagle GunSafe Program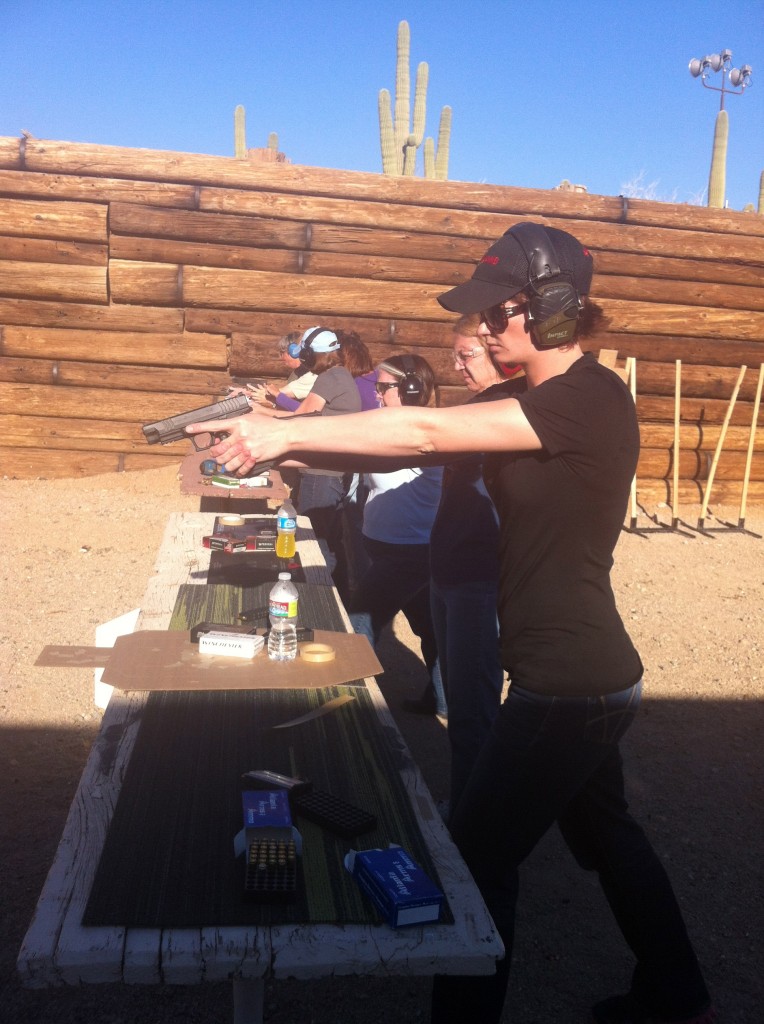 Safety At Rio Salado Sportsman's Club (RSSC):
There are  many safety rules to learn and practice with diligence, some having to do with range safety, some having to do with gun safety, ammunition, your firearm's mechanics, holsters, etc.  A few good websites to reference are:
National Shooting Sports Foundation – http://nssf.org

Project Child Safe –http://projectchildsafe.org/safety/safety-resources/roadtoresponsibility
The Well-Armed Woman – www.thewellarmedwoman.com
Handgun Law – http://www.handgunlaw.us/documents/GunSafety.pdf

Arizona Self Defense – http://www.azgunlaw.com/self-defense.html
United States Practical Shooting Association (USPSA) – www.uspsa.org
*** Important *** HerHandgun reserves the right to deny participation to or remove from class any individual based on any condition or circumstance that may possibly create an unsafe environment or situation.
Learn how to Safely, Properly and Accurately Shoot a Gun with Her Handgun – Beginner Pistol Classes For Women, Couples, Families and Businesses – in Phoenix, Scottsdale, Chandler, Gilbert, Tempe, Apache Junction and Mesa, Arizona.