HerHandgun.com hosts all of their classes and matches at Usery Mountain Shooting Range in Mesa, Arizona, AKA RIO SALADO SPORTSMAN'S CLUB (RSSC).
Rio Salado Sportsman's Club is in the East Valley of the Phoenix Metropolitan area.
3960 N. Usery Pass – Mesa, Arizona 85207
The following photo is an aerial view of the range, and indicates the turns you make to meet us in the Training Bays.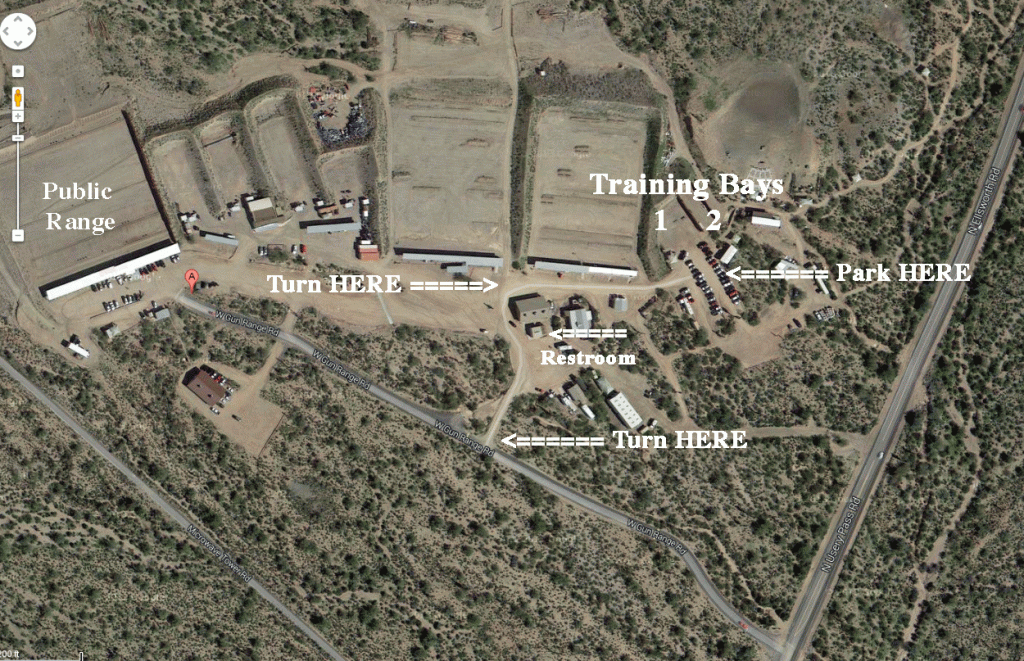 Click on link below for a Google MAP & DIRECTIONS to RSSC (from Phoenix – Sky Harbor – International Airport).
IMPORTANT NOTE: Rio Salado Sportsman's Club is a COLD range.  All firearms must be UNLOADED / EMPTY upon arrival at range.  Firearms will be loaded ONLY under the supervision of an instructor or range safety officer.
Do NOT handle firearms in the car / parking lot.  Keep all firearms enclosed in their bags / cases until you have arrived at a safety area or on the shooting line and are under a safety officer or instructor's command.
SAFETY is our paramount concern.  Eye protection must always be worn while outdoors after entering the main gate.  Ear protection must be worn while shooting or observing.
No drugs or alcohol are allowed in you or on you while at the range.
Learn to Shoot a Handgun with HerHandgun.com – Gun Training For Women, Couples, Families and Corporate Outings – Pistol Classes for Beginners – in Phoenix, Scottsdale, Chandler, Gilbert, Tempe and Mesa Arizona.