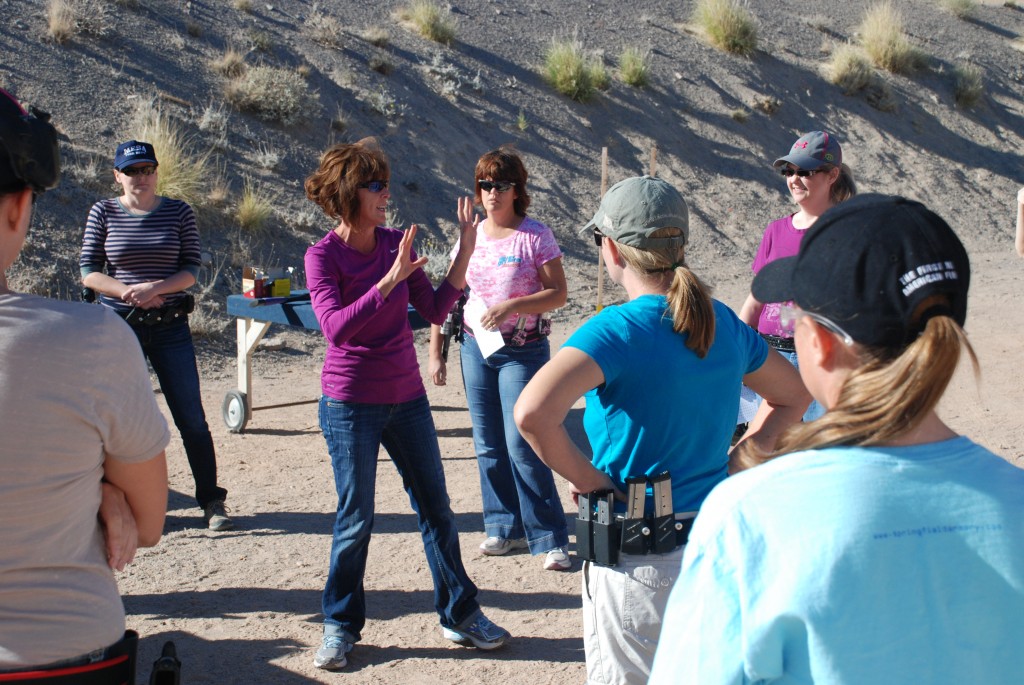 Debbie and Kippi are the directors of the Rio Salado Women's PRACTICE sessions at Rio Salado Sportsman's Club in MESA, Arizona.
DATES:
Check the Rio Salado Calendar Page for Practice Session DATES. Once the calendar loads, search for "women's practice".  Our practice events are typically held on the same day each month:
The FIRST SUNDAY afternoon during the cooler months
The FOURTH THURSDAY evening in the warmer months.
TIMES:
Summer Evening Hours
6:00 p.m. to 6:30 p.m. – Registration
6:30 p.m. – 9:00 p.m. – Practice Session
Winter Afternoon Hours
1:30 p.m. to 2:00 p.m. – Registration
2:00 p.m. – 5:00 p.m. – Practice Session
LADIES – Due to our high safety standards, our practice sessions are invitation only. If you are a "classified" competitive shooter, you are welcome to attend.  If you have NEVER SHOT A PRACTICE MATCH, you MUST have completed our BASIC PISTOL 101 class or have "Match CLEARANCE" from Debbie and Kippi prior to competing in a HerHandgun practice session.  Please arrange to meet with us to obtain "Match Clearance".
YOU ARE A PERFECT CANDIDATE FOR OUR LADIES-ONLY PRACTICE MATCHES IF:
You are female – sorry guys, you have lots of other events and matches to choose from!
You are familiar with range safety.
You know and follow all gun safety rules.
You know to safely LOAD and UNLOAD your gun.
You know how to safely SHOOT your gun.
You know how to safely RELOAD your gun.
(Optional) You have your CCW permit.
You have taken and passed a basic pistol instruction class (if you're brand new to shooting).
You want to shoot in a low-stress, supportive environment with other women.
You want more exposure and experience shooting your gun.
You want to become more proficient & accurate when shooting your gun.
You've always wanted to shoot a match, but have been a little intimidated by the complicated stages and the crowds of people.
You want to have FUN!
You have no previous match experience, you've shot a few matches, or you're a classified practical shooter!
PRACTICE MATCH REQUIREMENTS:
Participants must have a semi-automatic pistol in good working condition.  If your gun malfunctions more than once at the event, you will not be allowed to participate. There simply isn't enough time to deal with firearm issues.
Participants must have a minimum of 2 -3 magazines.
Must have a minimum combined magazine capacity of 24 rounds. The more rounds the better!
75 to 100+ rounds of factory ammunition –

no aluminum cased Blazer ammo please!

Eye protection – CLEAR lenses for the evening matches.
Ear protection – preferably electronic muffs so you can hear conversation and instruction.
Closed-toe shoes – The range is dirty and the terrain is rocky / uneven.
Medium-to-high necked shirt – Trust us … You do NOT want any hot brass getting into your clothing!
Separate case or gun bag to keep unloaded gun in.
A bag to keep your gun, equipment, ammunition, etc. in.
NOT required, but helpful – Sturdy belt, sturdy kydex or leather holster and magazine pouches.
PRACTICE MATCH INFORMATION:
WHEN?:
Summer – 4th Thursday EVENING of every month.
Winter – 1st Sunday AFTERNOON of every month.
Check our the Rio Salado CALENDAR for specific dates or changes.
WHERE?:
Rio Salado Sportsman's Club in Mesa, Arizona.
Go the

THE RANGE

page for more info on the club.
TIME?:
Summer Hours
6:00 p.m. to 6:30 p.m. – Registration.
6:30 p.m. – 9:00 p.m. – Practice Session!
Winter Hours
1:30 p.m. to 2:00 p.m. – Registration.
2:00 p.m. – 5:00 p.m. – Practice Session!
COST?:
$ 10.00 – Rio Salado Members
$ 15.00 – Rio Salado GUESTS
Her Handgun – Beginning Firearms Classes – Pistol Classes For Women Only – Couples Pistol Classes – Phoenix and Mesa, AZ –  HerHandgun – Quality Firearms Training – Quality Pistol Training – Pistol Classes For New Shooters –
#HerHandgun #Learn2Shoot #ShareShooting