Rio Salado Sportsmans Club's
DESERT FLOWER LADIES DAY – MAY 4, 2019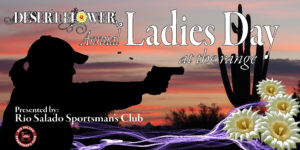 About Ladies' Day on May 4, 2019: 
Have you ever wanted to learn how to safely and properly handle and shoot a pistol, revolver, shotgun and rifle?
Are you thinking about purchasing a firearm for protection?
Do you want to buy a pistol, but are not sure where to start?
Do you have a competitive spirit and have been wanting to try one of the shooting sports, like Cowboy Fast Draw?
Desert Flower Ladies Day – What to expect at the event?
Well, this is your lucky day!  Sign up and join us this Spring as RSSC hosts the FIFTH Annual Desert Flower Ladies' Day!  Rio Salado's talented team of women volunteers are excited to teach you how to PROPERLY and SAFELY shoot!
REGISTRATION IS CLOSED – WE ARE FULL!

 READ ALL INFORMATION BEFORE REGISTERING:
desertflower@herhandgun.com  ONLINE registration is the only registration method available. 
COST:  $30 –

 Includes 9 mm pistol ammunition, .22 Rifle ammunition and shotgun shells. Pistols, shotguns, air guns and safety/shooting instruction is provided.

WHEN: Saturday May 4, 2019

WHERE: Rio Salado Sportsman's Club (RSSC)


3960 N. Usery Pass Rd.  Mesa AZ 85207


http://rsscaz.com
TIMES: There are 5 start blocks – register early to get your preferred time.
WHAT TO BRING:  

All participants are be given foam ear plugs, but please bring your own eye protection and ear muffs if you have them. We have a limited number of eye glasses and ear muffs to loan.

WHAT NOT TO BRING:

 Do NOT bring your own gun. You are NOT allowed to shoot it during the Desert Flower Ladies Day event. All firearms are provided by Springfield Armory and event volunteers.
Participants

are allowed to shoot

shotguns, .22 rifles, cowboy 

fast draw,

 and 

a

variety of 9 mm, Revolver, and .380 semi-automatic pistols.  All firearms and ammunition are provided.
Quality instruction provided by Rio Salado's fabulous team of knowledgeable volunteers – mostly women shooters!

Pre-Registration Required – Limited to the FIRST 100 women,




18 years of age and older.

Online REGISTRATION OPENS MARCH 4, 2019 (link below)! 
*** IMPORTANT *** PRIOR TO REGISTRATION –  

Please make sure your computer browser is up to date and allows "pop up windows".  We recommend using Firefox, Google Chrome or Safari browsers to register. 

When you click on the registration link below

you are REDIRECTED to Practiscore.com.
Upon successful registration and approval, you are emailed important confirmation messages from 

no-reply@practiscore.com.

The first email is confirmation of your payment and the second email is confirmation of registration and additional information.

 Please check your junk folder if you do not see the message.  Please read all registration details and email messages.
****    ****    ****    ****    ****
****    ****    ****    ****    ****

CLICK
HERE

TO REGISTER!
Please read IMPORTANT notes above BEFORE registering!

****    ****    ****    ****    ****
****    ****    ****    ****    ****
CLICK

HERE

TO PRE-ORDER A TEE SHIRT!
Light Purple,
Short Sleeved,
Crew Neck,
Pre-Shrunk Cotton,
Front Logo:
"I Learned to Shoot Like A Lady"

Back Logo:
"Desert Flower Ladies Day At The Range"
Shirts are only available via pre-order.  Click on links below to view designs:
DFLD Shirt Front 2018-1    DFLD Shirt Back 2018-1
****    ****    ****    ****    ****    ****    ****    ****    ****    ****
Event Waivers:
Waiver 1:
https://www.rsscaz.com/assets/downloads/RSSC-Waiver.pdf
Waiver 2: